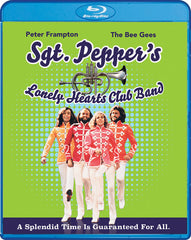 Beatles: Sgt. Pepper's Lonely Hearts Club Band (Blu-ray) DTS-HD Master Audio 2017 Release Date: 9/26/17
The one and only Billy Shears (multi-platinum recording artist Peter Frampton) and his best friends the Hendersons (Rock and Roll Hall of Famers The Bee Gees) are four young men from the quaint little town of Heartland. 
With superstardom calling, this fabulous foursome leaves Heartland (and Billy's beloved Strawberry Fields, Sandy Farina) vulnerable to mean Mr. Mustard, who steals Sgt. Pepper's magical instruments for a fiendish, "evil force that would poison young minds, pollute the environment, and subvert the democratic process. ", It's up to our heroes to save everything they hold dear with the power of music, kindness, and heart.