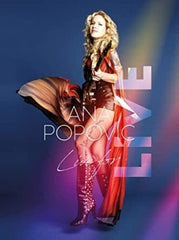 Ana Popovic: Live For Live France 2020 (DVD) 2020 Release Date: 5/15/2020
In the year that sees Ana Popovic celebrating 20 years as a touring musician, the award winning guitar player, singer and songwriter releases 'Live for LIVE', an exciting hour and a half DVD demonstrating why she's proudly looking back at a career of thousands of shows worldwide.
This high-energy concert showcases not only Ana's mesmerizing guitar skills but also her fabulous band, successfully merging musical styles. Ana's passion on stage is so evident that the title sums it up, this is what she lives for! About the recording Popovic says: 'Playing live is the best feeling in the world, it's like sacred time to me. A moment my mind is free. I'm one with my guitar and when the music takes me over, it's like fuel to my soul. My drive has always been the unconditional love to play my instrument. As a performing artist you gotta push your limits. It's ultimately about what YOU want to achieve. And, in order to do that, you need to surround yourself with musicians that are searching for the same. Having a great band on stage with me is absolutely necessary. I get my inspiration from how well my band plays. Always striving for higher heights. This live album features an evening in France with my 6-piece band. We tried to capture some of the joy and magic that a live show brings.
| | | | |
| --- | --- | --- | --- |
| 1 | | Intro | 2:00 |
| 2 | | Ana's Shuffle | 5:59 |
| 3 | | Can You Stand The Heat | 3:24 |
| 4 | | Object Of Obsession | 4:01 |
| 5 | | Love You Tonight | 5:40 |
| 6 | | Train | 5:16 |
| 7 | | Long Road Down | 5:07 |
| 8 | | New Coat Of Paint | 5:26 |
| 9 | | Can't You See What You're Doing To Me | 5:38 |
| 10 | | Fencewalk | 4:50 |
| 11 | | Johnnie Ray | 9:03 |
| 12 | | If Tomorrow Was Today | 7:13 |
| 13 | | Brand New Man | 2:51 |
| 14 | | Buthel Bop | 1:54 |
| 15 | | Like It On Top | 3:16 |
| 16 | | Lasting Kind Of Love | 3:37 |
| 17 | | Mo' Better Love | 4:31 |
| 18 | | How'd You Learn To Shake It Like That | 6:36 |
| 19 | | Tribe | 8:18 |