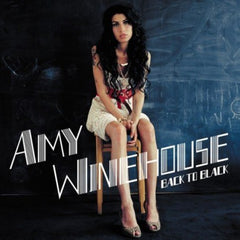 Amy Winehouse: Back to Black Explicit Content (LP) 2007 Release Date: 6/19/2007
US version includes one exclusive 'hidden' bonus track, 'You Know I'm No Good' (featuring Ghostface Killah). 'Back to Black' is the second album from London-based chanteuse Amy Winehouse. Although her 2003 debut was a success, her rowdy offstage behavior became the focus of tabloids and critics instead of the music.
Because of this, Winehouse stepped out of the spotlight and concentrated on putting the focus back on her music. Three years later, her sophomore release has surprised critics and excited her fan base. Combining a strong, Jazzy vocal style with often frank lyrical content recounting tales of love and loss, Winehouse is a truly talented songwriter with a good ear for melody, making this album an essential purchase. Includes the single 'Rehab'. Universal. 2007.  
1

 Rehab

2

 You Know I'm No Good

3

 Me & Mr. Jones

4

 Just Friends

5

 Back to Black

6

 Love Is a Losing Game

7

 Tears Dry on Their Own

8

 Wake Up Alone

9

 Some Unholy War

10

 He Can Only Hold Her

11

 You Know I'm No Good [Remix]