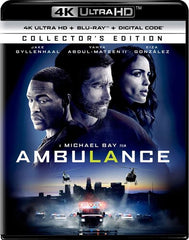 Ambulance (4K Ultra HD+Blu-ray+Digital Copy) 2 Pack 4K Ultra HD Rated: R 2022 Release Date: 6/14/2022
With his wife requiring a six-figure surgery, veteran William Sharp (Yahya Abdul-Mateen II) saw no other out than to join his career criminal adoptive brother Danny (Jake Gyllenhaal) on a brazen bank heist. When the job went sideways, they opted to carjack an ambulance for escape-and found unwilling passengers in an EMT (Eiza Gonzalez) and the very cop they wounded.
Michael Bay's nail-biting redo of a 2005 Danish thriller co-stars Garret Dillahunt, A Martinez, Devan Long. Widescreen; Soundtrack: English.