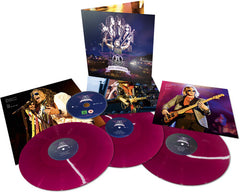 Aerosmith: Rocks Donington 2014 (3LP+DVD) [Import] 2020 Release Date: 12/4/2020
Aerosmith Rocks Donington 2014 is much more than just a great gig. It is a lasting document of the powerful and explosive bond that these five men - Steven Tyler, Joe Perry, Brad Whitford, Tom Hamilton and Joey Kramer - have made with each other and with fans of rock 'n' roll everywhere.
The film captures Aerosmith headlining the massive Download Festival at Donington Park with all their attitude and talent-drenched beauty as they deliver a blistering set of their greatest hits. It is a true once-in-a-lifetime rock 'n' roll experience to treasure and remember forever.
- Disc 1 -

1

 Train Kept A-Rollin'

2

 Eat the Rich

3

 Love in An Elevator

4

 Cryin'

5

 Jaded

6

 Livin' on the Edge

- Disc 2 -

1

 Last Child

2

 Freedom Fighter

3

 Same Old Song and Dance

4

 Janie's Got a Gun

5

 Toys in the Attic

6

 I Don't Want to Miss a Thing

7

 No More No More

8

 Come Together

- Disc 3 -

1

 Dude (Looks Like a Lady)

2

 Walk This Way

3

 Home Tonight

4

 Dream on

5

 Sweet Emotion

6

 Mama Kin
Label: Eagle Music Europe

Number of Discs: 4

UPC: 602435173245

Genre: Rock
Theme: Generation X

Release Date: 12/4/2020

Product ID: EAGG5173245.1

This is an import product

Weight: 2.06 lbs