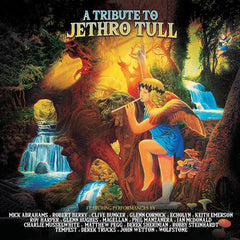 Jethro Tull: A Tribute To Jethro Tull- Various Artist: CD 2022 Release Date: 4/8/2022
Stars of prog rock and art rock gather to pay homage to one of the most unique and undeniably brilliant British bands, Jethro Tull!
Includes performances by fellow prog rockers Magellan, Dream Theater's Derek Sherinian, keyboard legend Keith Emerson, Roxy Music guitarist Phil Manzanera, Grammy winning blues artist Charles Musselwhite and more! Originally released in 1996,

this release has been thoroughly revamped with all new artwork and deluxe packaging!
1

 A Tull Tale - Magellan Feat. Stan Johnson

2

 Aqualung - Magellan

3

 Up the 'Pool - Roy Harper & Colm O'Sullivan

4

 Nothing Is Easy - John Wetton & Phil Manzanera

5

 Mother Goose - Lief Sorbye & Robert Berry

6

 Minstrel in the Gallery - Lief Sorbye & Robert Berry

7

 One Brown Mouse - Echolyn

8

 Cat's Squirrel - Charlie Musselwhite & Derek Trucks

9

 To Cry You a Song - Glenn Hughes & Derek Sherinian

10

 New Day Yesterday - Robby Steinhardt & Phil Manzanera

11

 Teacher - Wolfstone Feat. Derek Sherinian

12

 Living in the Past - Keith Emerson

13

 Locomotive Breath - Tempest

14

 Life's a Long Song - Dave Pegg & Matt Pegg