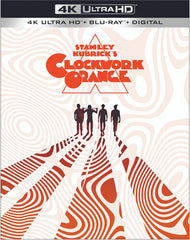 A Clockwork Orange: (4K Ultra HD Blu-ray+Digital Copy) 1971 Release Date: 9/21/2021
Stanley Kubrick wrote and directed this dark, dazzling, satirical tale based on the novella by Anthony Burgess. In a dystopian future filled with marauding gangs, decaying cities, and bizarre technologies, psychotic teen Alex is sent to prison where he undergoes an intensive round of aversion therapy in an effort to break him of his ultra-violent tendencies.
Malcolm McDowell, Patrick Magee, Godfrey Quigley star. Score includes Beethoven's Ninth Symphony, "Singin' in the Rain," and electronic music by Wendy Carlos. 137 min. Widescreen (Enhanced); Soundtracks: English DTS HD 5.1 Master Audio, Dolby Digital 5.1, French Dolby Digital 5.1, Spanish Dolby Digital 5.1 ; Subtitles: English (SDH), French, Spanish; audio commentary by McDowell; documentary; featurette; theatrical trailer. Two-disc set.