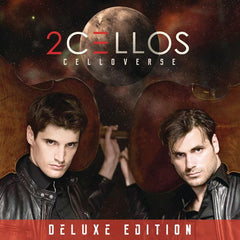 2 CELLOS: Celloverse Deluxe (CD+DVD) Sulic & Hauser 2015 Release Date: 1/27/2015
Deluxe CD/DVD edition includes bonus DVD that features seven videos. 2015 release, the third album from the exciting classical/rock duo from Croatia. Self- produced by the two cellists, Luka Sulic and Stjepan Hauser, along with engineer Filip Vidovic, CELLOVERSE is a return to the sound and concept of the their self-titled debut album.
CELLOVERSE includes their hit covers of AC/DC's "Thunderstruck," Mumford & Sons' "I Will Wait," and fresh interpretations of Avicii's hit "Wake Me Up" and Iron Maiden's "The Trooper," all available for the first time on CD. Other noteworthy tracks include the Paul McCartney classic, "Live and Let Die," featuring classical piano superstar Lang Lang, and another Michael Jackson classic, "They Don't Care About Us." CELLOVERSE picks up where their debut album left off, with the guys focusing on their unique ability to re-invent current and classic rock and pop songs in a high-energy classical music format. 
LABEL: Masterworks

NUMBER OF DISCS: 2

UPC: 888750523426

GENRE: Classical Artists

RELEASE DATE: 1/27/2015

PRODUCT ID: MSWK505234.2

WEIGHT: .23 lb