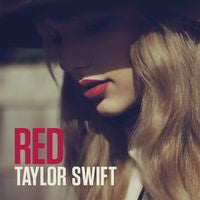 Taylor Swift: Red CD 2012 Release Date: 10/22/2012
2012 release, the fourth album from the internationally successful singer/songwriter. Swift co-wrote the album with people ''from all different places in music''. Collaborators include Dan Wilson, Butch Walker, Max Martin, Lori McKenna, Ed Sheeran and Mark Foster of Foster The People. Rolling Stone has described the album as ''Swift's most eclectic set ever, ranging from 'State Of Grace', a howling, U2-style epic with reverb-drenched guitars, to a sweet acoustic duet with U.K. singer Ed Sheeran.
Another key track even features a Dubstep-inspired bass breakdown. The album's lead single, 'We Are Never Ever Getting Back Together', became Swift's first number one single on the US Billboard Hot 100 chart, recording the highest ever one-week sales figures for a female artist.
Track Listing
| | | | |
| --- | --- | --- | --- |
| |   | Track # | Title |
| | | 1 | State of Grace |
| | | 2 | Red |
| | | 3 | Treacherous |
| | | 4 | I Knew You Were Trouble |
| | | 5 | All Too Well |
| | | 6 | 22 |
| | | 7 | I Almost Do |
| | | 8 | We Are Never Ever Getting Back Together |
| | | 9 | Stay Stay Stay |
| | | 10 | The Last Time |
| | | 11 | Holy Ground |
| | | 12 | Sad Beautiful Tragic |
| | | 13 | The Lucky One |
| | | 14 | Everything Has Changed |
| | | 15 | Starlight |
| | | 16 | Begin Again |
Product Reviews
Alone among her peers, Taylor Swift appears genuine. Which isn't to say she's without affectation or that she avoids artifice. She uses both when it suits her, as any real pop star would -- and if her 2012 album Red intends to do anything, it's to prove Taylor is a genuine superstar, the kind who transcends genre, the kind who can be referred to by a single name. Uneven as it is -- and it is, running just a shade too long as it sprints along in its quest to be everything to everyone -- Red accomplishes this goal with ease, establishing Taylor Swift as perhaps the only genuine cross-platform superstar of her time. Naturally, in order to accomplish this transition from country ing nue to pop star, Swift takes her country bona fides for granted, ignoring Nashville conventions as she rushes to collaborate with Britney Spears hitmaker Max Martin and Snow Patrol's Gary Lightbody. Red isn't sequenced like a proper album, it's a buffet, offering every kind of sound or identity a Swift fan could possibly want. Taylor deftly shifts styles, adapting well to the insistent pulse of Martin, easing into a shimmering melancholy reminiscent of Mazzy Star ("Sad Beautiful Tragic") and coolly riding a chilly new wave pulse ("The Lucky One"). Combined with the unabashed arena rock fanfare of "State of Grace" and the dance-pop of "We Are Never Ever Getting Back Together" and the dubstep feint "I Knew You Were Trouble" -- not to mention the ludicrous club-filler "22" -- Red barely winks at country, and it's a better album for it. It is, as all pop albums should be, recognizable primarily as the work of Taylor Swift alone: her girlish persona is at its center, allowing her to try on the latest fashions while always sounding like herself. Although she can still seem a little gangly in her lyrical details -- her relationship songs are too on the nose and she has an odd obsession about her perceived persecution by the cool kids -- these details hardly undermine the pristine pop confections surrounding them. If anything, these ungainly, awkward phrasings humanizes this mammoth pop monolith: she s constructed something so precise its success seems preordained, but underneath it all, Taylor is still twitchy, which makes Red not just catchy but compelling. ~ Stephen Thomas Erlewine