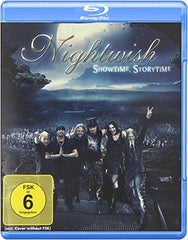 Nightwish: Showtime, Storytime Live At The Wacken Open Air in Wacken, Germany 2013 (United Kingdom-Import) (Blu-ray) 2014 Release Date: 5/20/2014
Four disc (two CDs + two DVDs) edition. 2013 live album from the Finnish Symphonic Metal band. Recorded during their live performance at the Wacken Open Air in Wacken, Germany on August 3, 2013. Showtime, Storytime is the first Nightwish production to feature Floor Jansen on vocals.
She initially replaced previous vocalist Anette Olzon during their North America tour leg, and on October 9, 2013, it was revealed that she would become an official band member, alongside with Troy Donockley. The release also contains a 120 minute documentary about the first days of Jansen in the band, still as a only live member, and her process of adaptation in the band.
UPC: 727361328504

GENRE: Rock

RELEASE DATE: 5/20/2014

PRODUCT ID: IMT1156309BR

LAST RETURN DATE: 5/13/2014

THIS PRODUCT IS NON-RETURNABLE

THIS IS AN IMPORT PRODUCT

DISTRIBUTOR/STUDIO: Nuclear Blast

WEIGHT: .25 lb