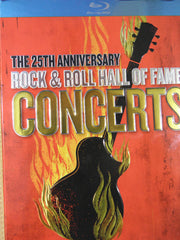 The 25TH Anniversary Rock & Roll Hall Of Fame Concerts 2009 [2 Blu-ray] 2010 DTS-HD Master Audio 5.1- 51 Live Performances
On October 29th and 30th, 2009, rock 'n' roll royalty held court at Madison Square Garden for what have been called 'the best concerts ever,' where 'rock 'n' roll history was made.'
Recorded live with 30 camera angles plus state-of-the-art recording, we captured the sights and sounds from these electrifying and historic concerts in New York City.  
Starring: Billy Joel, Bonnie Raitt, Bono, Crosby, Stills & Nash, James Taylor, John Legend, Mick Jagger, Smokey Robinson
Now, this critically-acclaimed and highly-rated HBO special is available on Blu-ray for the very first time! 'THE 25TH ANNIVERSARY ROCK AND ROLL HALL OF FAME CONCERTS' features all 51 performances from the acclaimed HBO special, plus 16 performances not seen on HBO, all in a 2-disc Blu-ray set. 
In celebration of the 25th Anniversary of the Rock And Roll Hall Of Fame, the concerts featured a who's who of rock from the '50s to the '90s and included artists performing together in unique combinations that will most likely never be witnessed again. 
Highlights include:
-Mick Jagger and Fergie in a blistering version of the Stones' classic 'Gimme Shelter,' with U2 as the backing band.
-Bruce Springsteen and Billy Joel on-stage for a rollicking rendition of 'Born to Run.'
-Sting joins Jeff Beck for the Curtis Mayfeld classic 'People Get Ready.'
-Paul Simon, David Crosby and Graham Nash join together for a spine-tingling 'Here Comes the Sun.'
-Ozzy Osbourne sings with Metallica on the Black Sabbath classics 'Iron Man' and 'Paranoid.'
-John Fogerty & Bruce Springsteen share vocals on Roy Orbison's 'Oh, Pretty Woman.'
-Plus Stevie Wonder, Aretha Franklin, Simon & Garfunkel, U2, Dion, Bonnie Raitt, James Taylor, John Legend, Annie Lennox, Smokey Robinson, B.B. King, Little Anthony and the Imperials, Jackson Brown\
Details
| | |
| --- | --- |
| | 25th Anniversary Rock & Roll Hall of Fame Concerts |
| | Music Video & Concerts, Rock |
| | Rock, Musicvideo - Music Video (Concert / Performance) |
| | 2 November 2010 |
| | Mick Jagger, Jeff Beck, Sting, Paul Simon |
| | Joel Gallen |
| | Not Rated |
| | Blu-ray Disc |
| | 25824 |
| | 610583406290 |
| | O: Blu-ray Disc |
Technical Information 
| | |
| --- | --- |
| | 2 November 2010 |
| | TIME LIFE ( TIMW ) |
| | 330 |
| | A: Americas, E Asia |
| | Discs:2 ~ Format:Blu-Ray ~ Region:A |
| | Mick Jagger, Jeff Beck, Sting, Paul Simon |
| | Blu-Ray/Ws 2 Br Va Clr Blu-Ray |