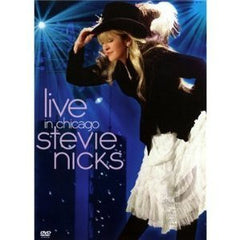 Stevie Nicks: Live In Chicago 2007 Soundstage PBS (DVD) 2008 16:9 DTS 5.1 Release Date 3/31/2009
This is Stevie Nicks and her band at their best!!!! This is one super outstanding concert dvd. Everything is first class!!! The atmosphere is great and the audience is really into it, making this one special concert!!! You get 17 great songs, plus a bonus track. Stevie does an excellent job of explaining the background or "story" behind the songs she performs. Her lead guitar player is simply outstanding, and the background singers are great. 
The songs are as follows:
Stand Back
Enchanted
If Anyone Falls in Love
Rhiannon
Crash Into Me - the Dave Matthews Song, and Stevie does an excellent job performing it.
Dreams
Sorcerer
The One
Gold Dust Woman
I Need to Know - The Tom Petty Song, Again, an outstanding performance by Stevie.
Circle Dance
Landside - This one she dedicates to her late father. During the Song there are pictures of him on the big screens. Stevie does an excellent tribute to him. You can feel Stevie's sencerity. "This one's for you Daddy" and again, Stevie does an excellcent perfomance.
Sara
Fall From Grace
How Still My Love
Edge of Seventeen (Simply Outstanding!!!!)
Rock & Roll 
The total running time is approximately 119 minutes. You get a bonus track of "Landslide" (Orchestra Version), and it is very good also. Overall, this is Stevie Nicks at her best!!! If you like Stevie, you'd better buy this one, because it doesn't get any better than this. 
STARRING: Stevie Nicks

UPC: 093624986218

DIRECTOR: Joe Thomas

RELEASE DATE: 3/31/2009

PRODUCT ID: RPRW507964DVD

CLOSED CAPTION: No

ORIGINAL YEAR: 2007

DISTRIBUTOR/STUDIO: Reprise / WEA

WEIGHT: .2 lb