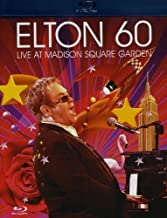 Elton John: Elton 60 - Live At Madison Square Garden 2007 [Blu-ray] Import Holland 2007 Dolby Digital 5.1 Release Date: 12/4/2007
Is it possible that the "Rocket Man" has turned 60? The sold-out crowd at Madison Square Garden is equally amazed when they see Elton John marking not only this birthday milestone, but 60 performances at the illustrious New York venue. Elton performs "Madman Across the Water," "Better Off Dead," "Honky Cat," "Sorry Seems to Be the Hardest Word," "Tiny Dancer," and many more. Soundtracks: English PCM 5.1, PCM stereo  
Presented in a 16x9 Widescreen aspect ratio of 1.78:1, encoded with MPEG-4 AVC and granted a 1080p transfer, Elton 60: Live at Madison Square Garden arrives on Blu-ray courtesy of Universal Music. 
Tracklist: WOW !!!
1 Sixty Years On
2 Madman Across the Water
3 Where to Now St. Peter?
4 Hercules
5 Ballad of a Well-Known Gun
6 Take Me to the Pilot
7 High Flying Bird
8 Holiday Inn
9 Burn Down the Mission
10 Better Off Dead
11 Levon
12 Empty Garden (Hey Hey Johnny)
13 Daniel
14 Honky Cat
15 Rocket Man
16 I Guess That's Why They Call It the Blues
17 The Bridge
18 Roy Rogers
19 Mona Lisa and Mad Hatters
20 Sorry Seems to Be the Hardest Word
21 Bennie and the Jets
22 All the Girls Love Alice
23 Tiny Dancer
24 Something About the Way You Look Tonight
25 Philadelphia Freedom
26 Sad Songs (Say So Much)
27 Don't Let the Sun Go Down on Me
28 I'm Still Dancing
29 The Bitch Is Back
30 Crocodile Rock
31 Saturday Night's Alright for Fighting
32 Funeral for a Friend/Love Lies Bleeding
33 Your Song. 
To sum it all up, Universal Music have done an excellent job with the Blu-ray release of Elton 60: Live at Madison Square Garden, and I am convinced that fans of the British singer will be thrilled with it. 

There are two audio tracks on this Blu-ray disc: English PCM 5.1 (48kHz, 24-bit) and English PCM Stereo. I opted for the English PCM 5.1 track and later on did a few random comparisons for the purpose of this review.  
STARRING: Baby daddy, Elton John, Michael Caine, Pierce Brosnan, Jim Carrey, Jon Bon Jovi, Shakira Caine, Cindy Crawford, Bill Clinton, Tyra Banks

UPC: 602517467934

DIRECTOR: David Mallet

RATED: NR

GENRE: Pop, Music Video (Concert/Performance)

RELEASE DATE: 12/4/2007

PRODUCT ID: MRYB000998359BR

CLOSED CAPTION: No

ORIGINAL YEAR: 2007

RUN TIME: 200 minutes

DISTRIBUTOR/STUDIO: Mercury

WEIGHT: .25 lb