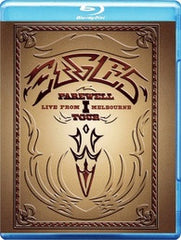 Eagles: Farewell Tour-Live From Melbourne 2004 (Blu-ray) 2013 DTS-HD Master Audio
Without doubt, the Eagles are one of the all-time biggest acts in popular music since the dawn of the rock'n'roll era. The band's roots go back to their role as defining artists in the phenomenally popular Southern California rock scene of the '70s, a decade in which they delivered four consecutive #1 albums.     603497925636      
Eagles Take It Easy (Live In Melbourne Australia) by AussieSean
Their momentous 2004 farewell tour filled stadiums around the world, and this- Blu-ray captures one of the most stellar events from that now-historic global sweep.
Only a decade after reuniting for the hugely successful Hell Freezes Over tour, The Eagles once again announce their dissolution, but not before playing another tour together. Winkingly referred to as the Farewell One Tour, Eagles: Farewell Tour -- Live From Melbourne captures one of the Australian stops on this tour. The set list contains most every song any fan would expect, including "Desperado," "Hotel California," and "Lyin' Eyes." ~ Perry Seibert, Rovi
Tracklist
 1."The Long Run" (Henley/Frey)
 2."New Kid in Town" (Henley/Frey/Souther)
 3."Wasted Time/Reprise" (Henley/Frey/Norman)
 4."Peaceful Easy Feeling" (Tempchin)
 5."I Can't Tell You Why" (Henley/Frey/Schmit)
 6."One of These Nights" (Frey/Henley)
 7."One Day at a Time" (Walsh)
 8."Lyin' Eyes" (Frey/Henley)
 9."The Boys of Summer" (Campbell/Henley)
 10."In the City" (Walsh/DeVorzon)
 11."Already Gone" (Stradlund/Tempchin)
 12."Tequila Sunrise" (Frey/Henley)
 13."Love Will Keep Us Alive" (Capaldi/Carrack/Vale)
 14."No More Cloudy Days" (Frey)
 15."Hole in the World" (Frey/Henley)
 16."Take It to the Limit" (Frey/Henley/Meisner)
 17."You Belong to the City" (Frey/Tempchin)
 18."Walk Away" (Walsh)
 19."Sunset Grill" (Henley/Kortchmar/Tench)
 20."Life's Been Good" (Walsh)
 21."Dirty Laundry" (Henley/Kortchmar)
 23."Funk #49" (Fox/Peters/Walsh)
 24."Heartache Tonight" (Frey/Henley/Seger/Souther)
 25."Life in the Fast Lane" (Frey/Henley/Walsh)
 26."Hotel California" (Felder/Henley/Frey)
 27."Rocky Mountain Way" (Grace/Passarelli/Vitale/Walsh)
 28."All She Wants to Do Is Dance" (Kortchmar)
 29."Take It Easy" (Browne/Frey)
 30."Desperado" (Frey/Henley) 
Details

Artist: Eagles
Title: The Eagles: Farewell I Tour - Live From Melbourne [Blu-Ray]
Genre: Music Video & Concerts, Rock
Sub-Genre: Rock / Pop, Music Video (Concert / Performance)
Release Date: 26-Feb-13
Directed By: Carol Dodds
Rated: Unknown
Product Type: Blu-ray Disc
Configuration: O: Blu-ray Disc
Street Date: 26-Feb-13
Studio: WEA/RHINO ( RHI )
Region: A: Americas, E Asia
Disc Info: Discs:1 ~ Format:Blu-Ray ~ Region:A
Crew: Director:Carol Dodds
Extras: Blu-Ray/Ws Eagles Dvd-Blu Ray
Eagles
 Glenn Frey: Lead guitars, piano, keyboards, Lead vocals.
 Joe Walsh: Lead guitars, Slide Guitar, keyboards, organ, Lead vocals.
 Timothy B. Schmit: Bass guitar, Lead vocals.
 Don Henley: drums, percussion, guitars, Lead vocals.
Background musicians
 Steuart Smith: Lead guitars, backing vocals (primarily replaces Don Felder who was fired from the Eagles in 2001)
 Michael Thompson: Keyboards, accordion
 Willie Hollis: Keyboards, backing vocals
 Scott Crago: Drums, percussion, sound FX (e.g. car horns and brakes on "Life's Been Good", and clapping sounds in "Heartache Tonight")
 Bill Armstrong: Trumpet
 Al Garth: Saxophone, violin and percussion
 Christian Mostert: Tenor and alto saxophone
 Greg Smith: Baritone saxophone
Bonus DVD
 Behind the Scenes footage
 New Interviews
 A Glimpse Backstage
 Soundcheck