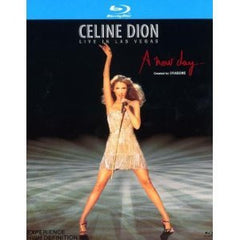 Celine Dion: Live in Las Vegas Caesars Palace- A New Day [Blu-ray] 2 BD Discs 2008 DTS-HD Master Audio 96kHz/24bit
If you were one of the handful of folks who missed Céline Dion's mega-run in Las Vegas, fear not: Céline Dion: A New Day is a riveting, sumptuous front-row seat to the whole extravagant experience. As concert Blu-ray's go, this is a show of a lifetime, nearly six hours featuring not only no-expenses-spared production values and every song from Dion's famed show, but priceless extras as well. Rovi Rating:

 886971733792 
Blu-ray Disc Trackslisting:
A New Day Has Come

The Power Of Love

It's All Coming Back To Me Now

Because You Loved Me

To Love You More

I'm Alive

I Drove All Night

Seduces Me

If I Could

Pour Que Tu M'aimes Encore

I Surrender

Ammore Annascunnuto

All The Way

I've Got The World On A String

I Wish

Love Can Move Mountains

River Deep, Mountain High

My Heart Will Go On
Dion's substantial voice is in fine form, and sparkles on signature tunes like "A New Day Has Come," "The Power of Love," and of course the theme from Titanic, "My Heart Will Go On" (and Dion-watchers will note that she's thankfully dialed back the breast-beating that used to accompany this song). 
But as impressive as the performances are--and they include the talented gymnasts, dancers, and backup singers who work as a Cirque du Soleil-style ensemble--the set's most memorable moments are found in the personal footage and extras. Dion comes across as truly humble and approachable, with a wicked sense of humor and real compassion for her hard-working staff and her fans. There are sweet, intimate moments of Dion with her husband and son, as well as telling scenes that show her true resourcefulness (girlfriend does her own makeup!). The many docs include one on the building of her special theater and the building of the show from the ground up. "If you're going to gamble," says Dion's manager and husband, René Angélil, "Vegas is the place to do it." Ladies and gentlemen, we have a winner. 
Product Description
An unprecedented 5 year run! More than 700 sold out shows! 3 million spectators! Everything about the record -breaking show that changed the history of entertainment scene in Las Vegas! 
This 2 set Blu-ray Disc includes Celine Dion's show in the colosseum at Caesars Palace and three exclusive documentaries: Travel to Las Vegas with the fans- join Celine at home, in her car, in her dressing room and even backstage - find out all the secrets of "A New Day"
More Than 5 hours of Never Before Seen Footage
oreover, fidelity and dynamics are exquisite, granting each track a level of clarity and presence I associate with top-tier sonics. Whether you're fond of the overactive stage show or holding a washcloth on your forehead to prevent a headache, it's impossible to deny A New Day's technical supremacy. Even though it was released in early 2008, few concert releases have matched its pitch-perfect audio presentation 
STARRING: Celine Dion

UPC: 886971733792

DIRECTORS: Jean Lamoureux, Stephane Laporte

RELEASE DATE: 2/5/2008

PRODUCT ID: SNY717337BR

CLOSED CAPTION: No

ORIGINAL YEAR: 2007

RUN TIME: 207 minutes

DISTRIBUTOR/STUDIO: Sony

WEIGHT: .37 lb