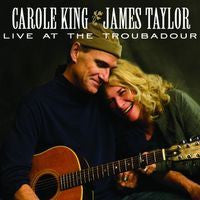 Carole King & James Taylor: Live At The Troubadour 2007 PBS Deluxe Edition (DVD/CD) 2010 16:9 DTS 5.1
Carole King and James Taylor reuniting isn t quite a monumental reunion -- they never were an official performing entity, so they never had a falling out, appearing on-stage and on record from time to time since their 70s heyday -- but it is a notable one, particularly when they choose to perform at the Troubadour, the L.A. venue so crucial at the start of their stardom, backed by such fellow veterans of the SoCal singer/songwriter scene as guitarist Danny Kortchmar, bassist Leland Sklar, and drummer Russell Kunkel, musicians who supported them the last time they co-headlined the club back in 1971.  888072320536  AUDIO SAMPLE ONLY THIS IS A LIVE DVD CONCERT
All this made their series of shared shows in November 2007 an event, albeit a low-key one. King and Taylor embrace their classics -- it seems that there s not a hit missed between the two of them -- and there s genuine warmth to the whole show that s quite appealing. Perhaps there are no surprises here, but any shock would have run counter to the whole spirit of the evening: this is about basking in both nostalgia and friendship, and if you re on the same wave as the musicians, Live at the Troubadour is very enjoyable. ~ Stephen Thomas Erlewine, Rovi
Product Notes
Deluxe CD/DVD edition. 2010 live release, a collaboration between two of the most successful singer/songwriters of their generation. This two disc set finds Carole King and James Taylor and their original band rejoined for an historic concert event - 6 shows at the famed Troubadour Club in L.A. This release is a dynamic, intimate and wholly unique concert experience. Recorded live at the legendary Los Angeles Troubadour club in November 2007 in dazzling HD state-of-the-art video and 5.1 audio!
Details
Artist: Carole King & James Taylor
Title: Live At The Troubadour
Genre: Rock
Sub-Genre:Rock / Pop, Box Sets
Release Date: 4-May-10
Attributes: Incl. Bonus Dvd ~ Discs:2
Label: Umgd/Concord ( CNCO )
Product Type: Compact Disc
UPC: Configuration: D: CD  Rovi Rating:

Track Listing
Track # Title
1 1 Blossom
1 2 So Far Away
1 3 Machine Gun Kelly
1 4 Carolina in My Mind
1 5 Its Too Late
1 6 Smackwater Jack
1 7 Something in the Way She Moves
1 8 Will You Love Me Tomorrow?
1 9 Country Road
1 10 Fire and Rain
1 11 Sweet Baby James
1 12 I Feel the Earth Move
1 13 Youve Got a Friend
1 14 Up on the Roof
1 15 You Can Close Your Eyes
CD
1 Blossom
2 2 So Far Away
2 3 Machine Gun Kelly
2 4 Carolina in My Mind
2 5 It's Too Late
2 6 Smackwater Jack
2 7 Something in the Way she moves
2 8 Will You Love Me Tomorrow
2 9 Country Road
2 10 Fire and Rain
2 11 Sweet Baby James
2 12 I Feel the Earth Move
2 13 You'Ve Got a Friend
2 14 Up on the Roof
2 15 You Can Close Your Eyes
ARTIST: Carole King
LABEL: Hear Music

UPC: 888072320536

GENRE: Rock

RELEASE DATE: 5/4/2010

PRODUCT ID: HEAR32053.2

WEIGHT: .23 lb