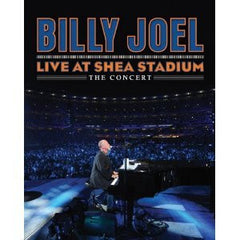 Billy Joel: Live at Shea Stadium 2008 [Blu-ray] DTS-HD Master Audio 5.1 48kHz/24bit 2011 16:9 Dolby Digital 5.1
Billy Joel Live at Shea Stadium looks absolutely fantastic on Blu-ray courtesy of an AVC encoded 1080i image in 16x9 Widescreen Aspect Ratio of 1.78:1. This is one of the clearest and sharpest looking concert Blu-rays in recent memory and once again proves that Sony does these live concert Blu's like no other label. Colors are bright and bold and fine detail is often amazing.  
Camera coverage on this concert is stupendous. We get multiple angles, including what must have been helicopter or blimp shots over the entire stadium, and the sharpness and clarity of the image is really amazing. 
Billy's set list includes:
Angry Young Man
My Life
Summer, Highland Falls
Everybody Loves You Now
Zanzibar
New York State of Mind (with Tony Bennett)
Allentown
The Ballad of Billy the Kid
She's Always a Woman
Goodnight Saigon
Miami 2017
Shameless (with Garth Brooks)
This is the Time (with John Mayer)
Keeping the Faith
Captain Jack
Lullabye
The River of Dreams/A Hard Day's Night
We Didn't Start the Fire
You May Be Right
Scenes from an Italian Restaurant
Only the Good Die Young
I Saw Her Standing There (with Paul McCartney)
Take Me Out to the Ballgame
Piano Man
Let it Be (with Paul McCartney)
Three audio options are offered on this Blu-ray, and two of them are stupendously robust. The lossless LPCM 2.0 and 5.1 tracks (both 48kHz/24-bit) are brilliantly alive and incredibly dynamic, sporting wonderful, near reference quality audio and extremely faithful fidelity. 
Details
| | |
| --- | --- |
| | Billy Joel |
| | Live at Shea Stadium |
| | Pop, Music Video & Concerts |
| | Rock - Pop, Musicvideo - Music Video (Concert / Performance) |
| | 5 April 2011 |
| | Billy Joel |
| | Jon Small |
| | Not Rated |
| | Blu-ray Disc |
| | 784595 |
| | 886978459596 |
| | O: Blu-ray Disc |